The best bits...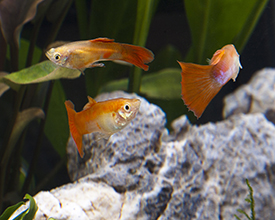 This complete kit lets you set up your aquarium as soon as you're ready.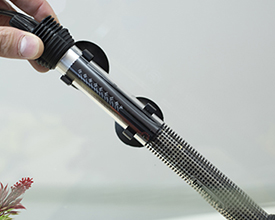 A heater and thermometer are included as standard so you can upgrade to a tropical aquarium at no extra cost.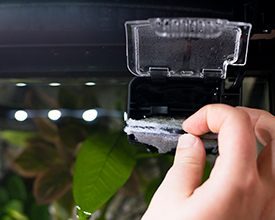 The low maintenance CF Easy Care filtration system lets you spend more time enjoying your aquarium and less time cleaning it.
Key features
Stunning curved glass gives you a full view of your aquarium

Scratch resistant glass means you can rely on clear view of your fish and plants

Blue and white lights stimulate plant health and let you choose a subtle evening look

The Easy Clean Filter keeps water healthy and clean with its 4 stage filtration process

Easy access hinged lid, because feeding and caring for your fish should be easy as pie
Product overview
Could the Fish Pod Aquarium be exactly what you're looking for? Well that depends… How about 10 years of happy customers enjoying the Fish Pod Aquarium? Or what about a stylish curved glass front that gives you an unobscured view of its underwater inhabitants in all their glory? The lighting's pretty good too - you can switch between a Bright Day White, or a Cool Blue Moon lighting - your fish will look incredible and your plants will thrive. Maybe you're undecided between tropical and coldwater fishkeeping. No problem - the Fish Pod Aquarium comes complete with a tropical upgrade kit, so you can waver right until the last minute. Talking of which, set-up is a dream, which might be just the ticket if you're the impatient sort. The easy starter kit halves the time it takes to mature your aquarium, so you can get started asap! Or maybe labourious maintenance puts you off? No problem here - the CF Easy Care Filtration system means that water stays clear and healthy thanks to the four-stage filtration process.
120 Litre Aquarium

CF Filter

PL Light

Heater

Water Treatment

Quick Start Guide
Product code
0382
Product barcode
755349003822
Disposal of electrical goods
Y
Colour
Black
Length
5. 76 - 100cm
Size (litres)
120 Litre
Wattage
40.5W
Consumables
Spare Parts

2314 - CF3 Impellor

03317 - Fish Pod 120 Hood

2336 - CF3 Bio-Media Holster (Customer Care only)

2324 - CF3 Sucker Mounted Locatrion Cradle (Customer Care only)

2347 - CF3 Attachment Suckers (Customer Care only)

3551 - CF3 Clear Filter Cover (Customer Care only)

Glass thickness
4mm
Lighting spectrum
Daylight White and Cool Blue Moon
Aquarium size
4. Large 101-150 litres
Assembled dimensions (HxWxD) cm
55 x 80 x 43
Aquarium maintenance and doing a water change
See how to carry out your regular aquarium care routine. Regular maintenance is an important part of keeping a happy and healthy aquarium. Doing regular water changes and other general mainenance tasks: changing or cleaning filter media, removing dead plants, cleaning ornaments and removing waste from gravel etc. all lead to a clean aquarium and healthy fish.