The best bits...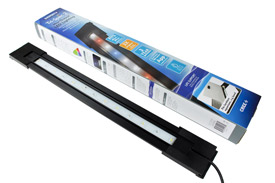 Max Output Tri-Spec 2 lighting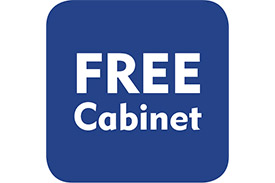 Free cabinet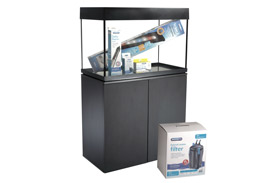 Available in Fully Loaded and Customisable versions
Key features
Fully Loaded (51807) and Customisable (51803) version available
Large, glass aquarium, made from quality materials
Powerful Tri-Spec 2 LED lighting
New aquarium start up kit to help you quickly and effortlessly cycle your aquarium
Multi stage, silent EF canister filter (Fully Loaded Kit)
Tri-Spec app controller allows you to finely tune the performance of your lights (Fully Loaded Kit)
Deltatherm heater 200W (Fully Loaded Kit)
Product overview
Want a big new tank but not a fan of spending a load of extra money on upgrades? Our Tri-Spec 2 Fully Loaded kits come with all the high-spec gear that you would need to set up your dream aquarium. Want to recreate a lush river biotope or looking to grow a stunning reef? We have got you covered. The super bright Tri-Spec 2 LED light paired with a Tri-Spec app controller allow you to have high-intensity light in just the right spectrum range to meet the needs of nearly any plant or coral species. Big aquariums need serious filtrations and that's why we have developed the EF1 external canister filter. It provides multi-stage filtration, helps maintain pristine water quality and reduces cleaning frequency. Also included in the Fully Loaded kit are a reliable Deltatherm heater and New aquarium start up kit to help you quickly and effortlessly cycle your new aquarium. And if that is not enough, the matching cabinet is free and the aquarium and lighting come with a 3 year warranty. If you would rather spec your own aquarium, the Customisable version of the kit is what you are looking for.
Customisable and Fully Loaded kit:
Tri-Spec 2 Aquarium
Matching Black Grain cabinet
Tri-Spec 2 Max Output LED Lighting 116 - 124cm
New aquarium start up kit Fully Loaded Kit also includes:
Tri-Spec app controller
EF External canister filter
Deltatherm heater 300W
| | |
| --- | --- |
| Product code | 51807 |
| Product barcode | 755349518074 |
| Disposal of electrical goods | Y |
| Colour | Black |
| Length | 6. 101 - 150cm |
| Size (litres) | 250 Litres |
| Glass thickness | 6mm |
| Lighting spectrum | 440nm BLUE, 640nm RED, 6500k WHITE |
| Weight | 103.5kg |
| Aquarium size | 6. XX Large 200+ litres |