The best bits...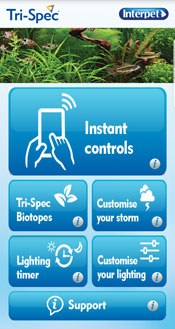 Easy to navigate, user-friendly app for convenient lighting control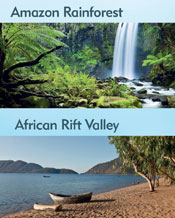 African and Amazonian biotope modes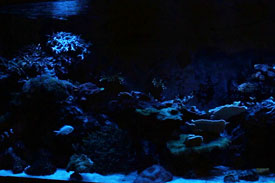 Various customisable lighting effects
Key features
Upgraded software and hardware
Comatible with Tri-Spec and Tri-Spec 2
Connect to more that one controller
Lightning effect
African and Amazonian biotope modes
Customisable Blue Moon effect
Product overview
If you want to unlock the full potential of your Tri-Spec 2 Max Output lighting, our Bluetooth App Controller is what you need. Take advantage of extra functionality such as setting custom timers, fine tuning the light spectrum or choosing from pre-set biotopes. Gentle sunrise and sunset light transitions recreate a more natural environment and apart from looking stunning, cause less stress to fish. The lightning storm effect can help trigger fishes natural spawning behaviour by mimicking the storm season in the tropics. The free and easy to use app is available for both iOS and Android and allows you to control your Tri-Spec 2 from the comfort of your sofa.
Tri-Spec 2 LED Android App Download
1 x inline Bluetooth LED App Controller
| | |
| --- | --- |
| Product code | 51580 |
| Product barcode | 755349515806 |
| Disposal of electrical goods | Y |
| Colour | Combined Day/Night |
| Length | 52-60cm, 69-80cm, 90-100cm, 116-124cm, |
| Wattage | 22W, 27W, 31W, 40.5W, |
| Weight | 0.05kg |
| Aquarium size | Medium, Large, X Large |