Choosing the right aquarium for you
If you have made the decision to start the fun, beautiful and relaxing journey of fish keeping, you'll need a home for your new aquatic life – an aquarium.
Selecting the right aquarium for your circumstances will rely on factors that you should consider carefully.
We are not trying to put you off here, we want you to dive-in and enjoy fish keeping, but we also want you to start your new hobby with a clear understanding of what is required so you have a long and pleasurable life with your fish tank.
What size fish tank should I get?
That will depend on the type of fish you plan to keep. Generally speaking, larger tanks are recommended, as they provide more space for a variety of fish types and are easier to maintain than smaller tanks. 60 litre aquarium tanks are an ideal size for beginners.
Some suggestions of Interpet starter aquariums for all sizes and budgets:
Fish Pod Aquariums
These make a great starter set-up. With beautiful curved glass for panoramic viewing and day and night lighting for great looking fish and plants – you can't go wrong.
The kit also includes:
CF filtration
a heater
a thermometer
two water start-up products
Each has a cabinet (available separately) designed specifically to hold the weight of the filled aquarium.
The three aquariums in the range all hold a generous volume of water; 48 litres, 64 litres or 120 litres and prices range from around: £100 and £200 (contact your local aquatic retailer for an accurate price).


Think about where you want your new aquarium and what space you have to accommodate the aquarium and cabinet. Double check that really is the right spot for it, you should avoid:
Direct sunlight (you'll suffer a never-ending battle with algae!)
Extreme temperature variations, for example, next to a radiator (this can distress the fish leading to health issues)
Areas subject to loud noise, vibrations, or potential knocking (this will also stress your fish) is working and there are no blockages.
The old adage 'bigger is better' rings true when it comes to aquariums, this is because:
Fish live in their own waste so the more water there is to dilute that waste and other dangerous chemicals, the cleaner the water they live and breathe.
The larger the aquarium the bigger the surface area (for rectangle and bow fronted designs), the better the oxygenation which is important for good fish health.
You can keep more – and larger – species of fish. Fish keeping is addictive and in no time, you'll be wanting to increase your little community!t to loud noise, vibrations, or potential knocking (this will also stress your fish) is working and there are no blockages.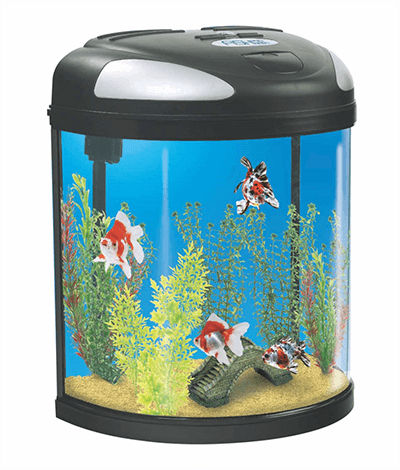 What shape and style do you prefer?
There is a wide selection of aquariums available, from classical rectangular and bow fronted to cylindrical and bowl shaped.
Consider the ease of maintenance and the welfare of your fish (volume/surface area – as mentioned in Size) when choosing your fish tank.
Is it a 'starter' aquarium with everything you need to get up and running?
Fish keeping requires a fair amount of equipment to get going, and there are many aquariums available that come (more economically) with everything included, but the minimum would be:
aquarium (and buy the correct cabinet)
filter
lighting
tap water conditioner
plus a heater, if you intend on keeping tropical fish
Remember that there will be additional items you will need to buy in the early days, such as; gravel, plants, fish, a test kit, net, thermometer, other fish or water treatments and food. There are also ongoing upgrades and kit to keep your aquarium healthy and clean.
How much do you want to spend on your new set-up?
Finding the perfect aquarium for you is essential to success and enjoyment in your new hobby; the size, design and suitability for your needs should balance out with the budget you have available. Consider the ongoing running and care costs of the aquarium, fish and equipment.
Usually the primary reason for considering an aquarium are the beautiful and varied fish available.
When selecting your aquarium, you need to think about what type of fish you want to keep. Some fish like to shoal, so you'll need plenty of room for them to live together. Others are territorial and require some rock or décor to set up their own 'zones'.
Also consider how big the fish will grow – if you want a specific type of fish you need to allow room for their full adult size.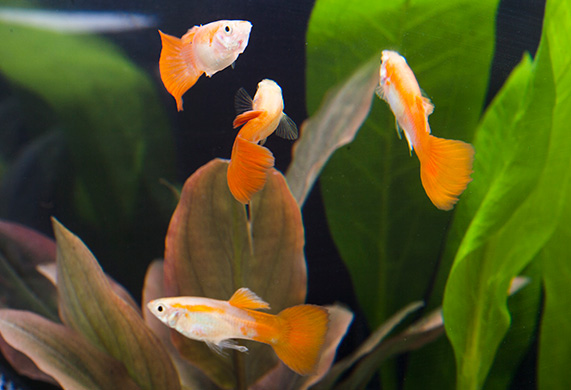 Some suggestions of Interpet starter aquariums for all sizes and budgets:
And finally…
It is vital to bear-in-mind the ongoing time, money and care that fish require. As living creatures, they deserve as much dedication as any other pet you might choose to keep in your family.
Read through the useful articles in this website and we'll take you by the hand on your new aquatic adventure.
Now, choose your aquarium, and let's get going!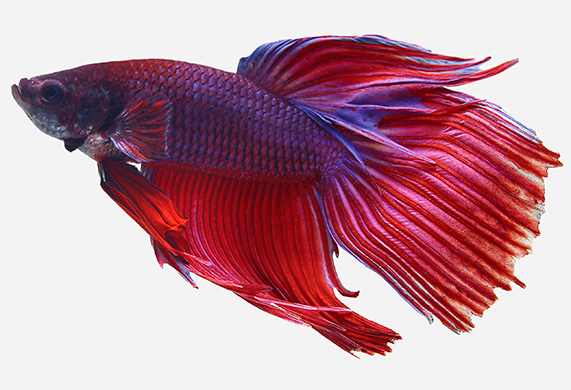 FAQs
What is the best tank size for a starter aquarium?
For a beginner's aquarium, it is recommended to start with a size no smaller than 20 Litres, but ideally larger. A 60 Litre aquarium or larger is a great size for those new to fish keeping.
What other equipment do I need to set up a fish tank?
In addition to an aquarium, you will need a filter, heater, thermometer, lighting, substrate and decorations. Depending on the type of fish you keep, you may also need additional water treatments or additives.
What's the best way to set up a large aquarium?
Setting up a large aquarium can be quite involved and is best done in stages to make sure you are successful.
Pick an appropriate location for your aquarium. Choose a spot that is out of direct sunlight, not near any heat sources or drafts, and has easy access to electric outlets if needed.
Place the aquarium on a strong stand that is designed to support the weight of a filled aquarium. It should also provide easy access to electrical outlets if needed.
Prepare your aquarium by filling it with dechlorinated water and adding any necessary treatments or additives.
Install the filter, heater, thermometer and lighting as needed for your fish tank.
Use substrate to cover the bottom of the tank and add decorations like rocks and plants.
Allow the tank to cycle for a few days before adding any fish. During this time, you can check the water parameters and make sure everything is functioning properly.
It's time to add your fish! Make sure you research your fish species beforehand to ensure they are compatible with each other and that you are providing them with the right environment.
What is the best size for a tropical fish home aquarium?
Generally, it is recommended that you choose an aquarium that can hold at least 20 Litres of water. This will provide enough space for your fish to move around and also allow for enough water volume to maintain a consistent temperature and quality of the water.
If you're looking to start a tropical fish tank, it's important to know the ratio of fish to water. Generally, 2.5 Litres should be provided for every one inch of fish. This ratio is slightly smaller than that recommended for cold water fish, which is 3 Litres per inch.
How to make aquarium setups stand out?
Creating an aquarium setup that stands out can be a fun and rewarding experience. When selecting the decor for your tank, consider incorporating various textures, colours and shapes. This will help to create a visually appealing display that will be pleasing to both you and your fish.
Adding driftwood, plants, rocks and coral are all great ways to make your aquarium unique. Depending on the type of fish you keep, you may also be able to add live plants or even corals. You can also include ornaments and decorations that are designed to make your tank look like a natural environment.
Finally, consider adding LED lighting to your setup. This will help to bring out the colours of the decorations and make the aquarium stand out.
Does a 35 gallon aquarium need a special stand?
When setting up a 35-gallon aquarium, it's important to consider the weight it will hold. With water, gravel, filter, and other accessories, the total weight can exceed 135kg. To ensure the safety of your aquarium, you will need a stand that can support the tank without collapsing or wobbling. While it doesn't have to be a purpose-made aquarium stand, it should be something sturdy and reliable.
For further information, please see our Aquariums & Fish Tank FAQs.