The best bits...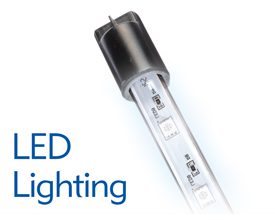 Enhance your aquarium's appearance and encourage healthy plant growth with the ultra brright LED lighting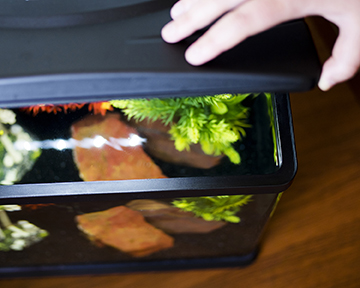 Easily care for your fish and carry out regular maintenance thanks to the simple-to-use hinged lid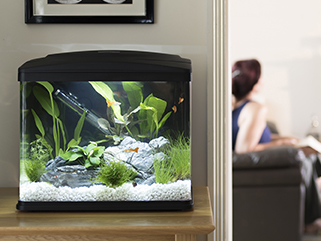 Your beautiful aquarium stays looking beautiful thanks to scratch-resistant glass
Key features
Adaptable aquarium, perfect for coldwater or tropical fishkeeping

The Easy Clean Filter keeps water healthy and clean with its 4 stage filtration process.

Scratch resistent curved glass for an unobscured panoramic view of your beautiful aquarium

High performace LEDs enhance the appearance of your fish and encourage healthy plant growth
Product overview
Successful fishkeeping doesn't need to be a mystery. In fact, we think it can be pretty straightforward.
That's why we designed the Fish Box LED range of aquariums - they have everything you need to set up a healthy and attractive aquarium from the word "go".
And don't think that straightforward is another word for plain. Far from it in fact. Panoramic curved glass, high performance LED lighting and a top quality four-stage easy-clean filtration system means you'll have a beautiful and healthy aquarium for everyone to enjoy and admire.
30 Litre Black Aquarium

Filter

LED Lighting

Water Treatment

Low Voltage Transformer

Quick Start Guide
Product code
51700
Product barcode
755349517008
Disposal of electrical goods
Y
Colour
Black
Length
2. 31 - 45cm
Size (litres)
30 Litre
Wattage
4.1W
Consumables
Spare Parts

CF1 Bio-Media Holster (Customer Care only)

CF1/CF2 Sucker Mounted Location Cradle (Customer Care only)

CF Mini/1/2 Attachment Suckers (Customer Care only)

CF1 Clear Filter Cover (Customer Care only)

Glass thickness
4mm
Lighting spectrum
10000k
Warnings
Heater not included
Aquarium size
2. Small 21-50 litres
Assembled dimensions (HxWxD) cm
39 x 42 x 24