The best bits...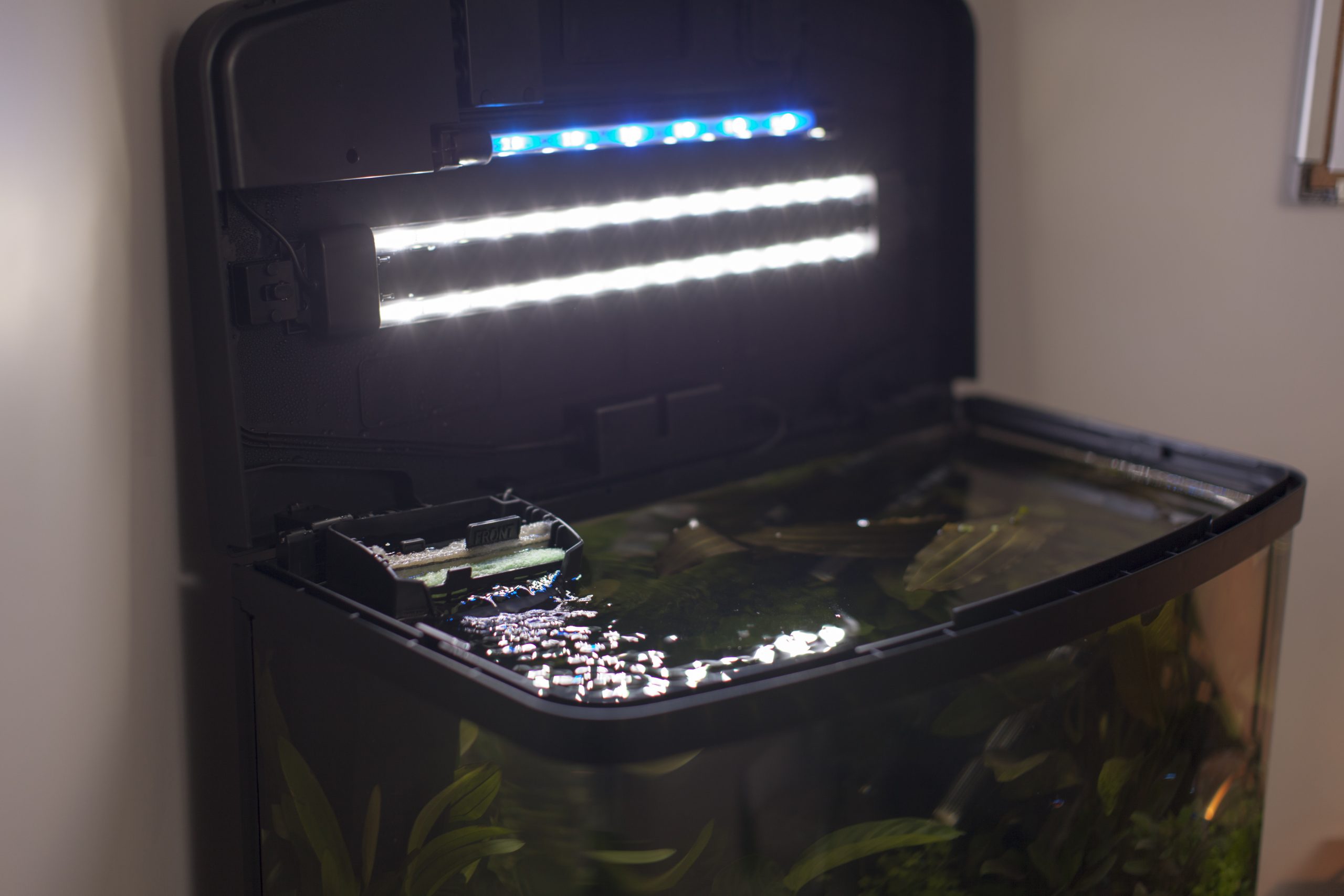 Have a tank that glows with health. High performance LED lighting helps healthy plant growth and shows off your beautiful fish.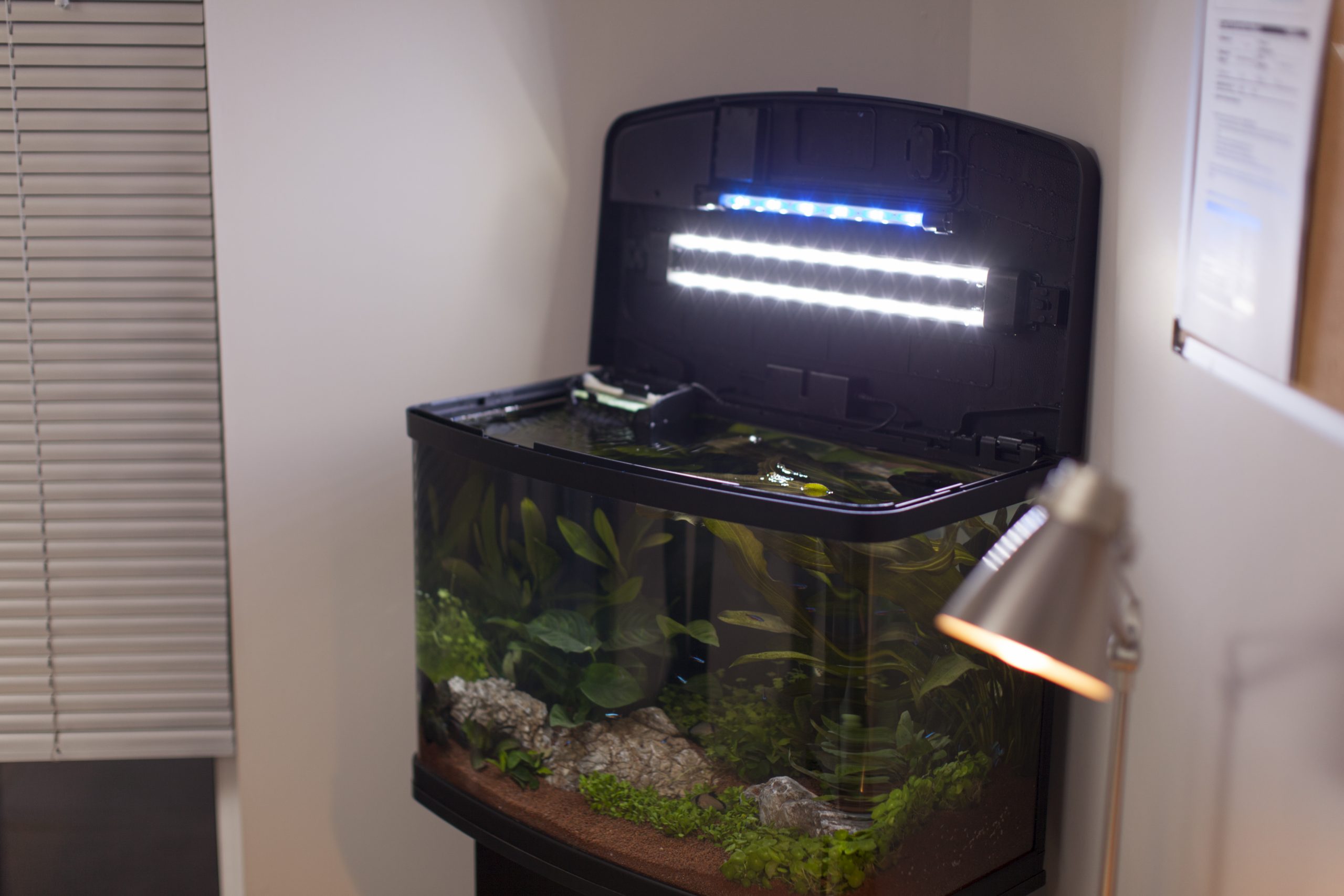 Aquarium controls are at home in the secure and slim lid. Youll also be sure that your fish stay in, while pets and toys stay out.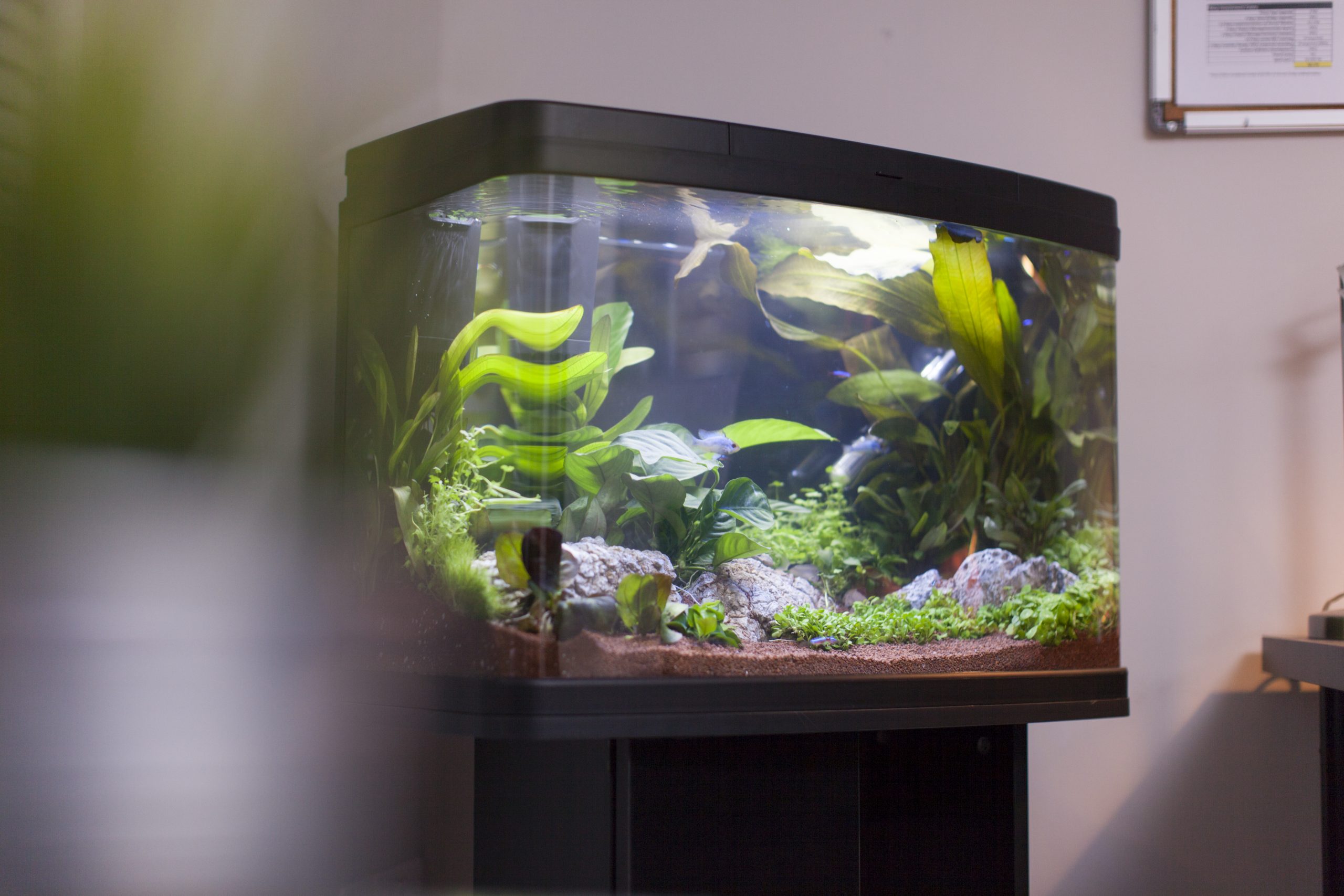 Enjoy your underwater paradise from anywhere in the room; the scratch-resist panoramic glass gives you a perfect view.
Key features
Simple and unobtrusive lid keeps controls safe and sound.
Helpful Aquacare reminder system helps you stay on top of maintenance.
Blue and white LED lights stimulate plant health and let you choose a subtle evening look.
Just one plug powers your entire aquarium; simple, tidy and safe.
The Easy Clean Filter keeps water healthy and clean with its 4 stage filtration process.
Choice of 40 litre and 64 litre capacity to suit your space.
Product overview
Get ready for complimentsu0085 your new LED Insight Aquarium will have them flooding in. Try not to look too smug as you explain the reason your admiring guests can see such happy looking fish and healthy plants is because of the high performance LED lights and stylish panoramic display. And yes, the fish are happy and undisturbed. That's thanks to the slimline lid which contains all the tech you need to control your aquarium's environment, while also protecting your fish from children and pets (curious cats and stray Lego have no chance here). "But isn't caring for it a hassle?" they ask. No, it's a doddleu0085 the unique Aquacare Reminder System reminds you every 28 days to keep up your care routine. And because you won't forget, it's easy to keep your tank and its residents in tip-top condition. And to top it off there's the CF Easy Care Filtration system. Super-quiet (great for offices and bedrooms), it keeps water clear and healthy and arrives with all the kit you need to get started.
40 Litre Aquarium
CF Filter
LED Light
Low Voltage Power Hub
Heater
Water Treatment
Quick Start Guide
Product code
0370
Product barcode
755349003709
Disposal of electrical goods
Y
Colour
Black
Length
3. 46 - 60cm
Size (litres)
40 Litre
Wattage
108.1W
Consumables
Spare Parts
36624 - Insight 40/64 Aquacare Module
36624 - Insight 40 Double 9 x 0.2w LED Bar
36628 - Insight 40 LED Power Hub
36629 - Insight 40 LED Hub
CF1/CF2 Sucker Mounted Location Cradle (Customer Care only)
2330 - CF Mini/1/2 Attachment Suckers (Customer Care only)
CF1 Clear Filter Cover (Customer Care only)
CF1 Bio-Media holster (Customer Care only)
Glass thickness
4mm
Lighting spectrum
10,000k Bright White Plus Blue Moon
Weight
0.0000kg
Aquarium size
2. Small 21-50 litres
Assembled dimensions (HxWxD) cm
38.5 x 49 x 27
Aquarium maintenance and doing a water change
See how to carry out your regular aquarium care routine. Regular maintenance is an important part of keeping a happy and healthy aquarium. Doing regular water changes and other general mainenance tasks: changing or cleaning filter media, removing dead plants, cleaning ornaments and removing waste from gravel etc. all lead to a clean aquarium and healthy fish.